Field trips
These trips are your chance to view and enjoy the natural resources we work to protect, manage, and restore. Pre-registration for field trips is required and will include a $10 nominal fee. Field trip sign up will occur when you register for the conference. Space in each field trip is limited, and sign up is first-come-first-served, so register early to make sure you get into your desired field trip. Note that field trip fees are non-refundable.
**Please note that the field trips will go in almost any weather (with the exception of hazardous conditions). We've encountered a wide range of conditions on our February field trips, so please consider this as you decide between indoor and outdoor options, and be prepared to dress warmly if you do register for a field trip.
Explore a Wetland Gem®: Nichols Creek State Wildlife Area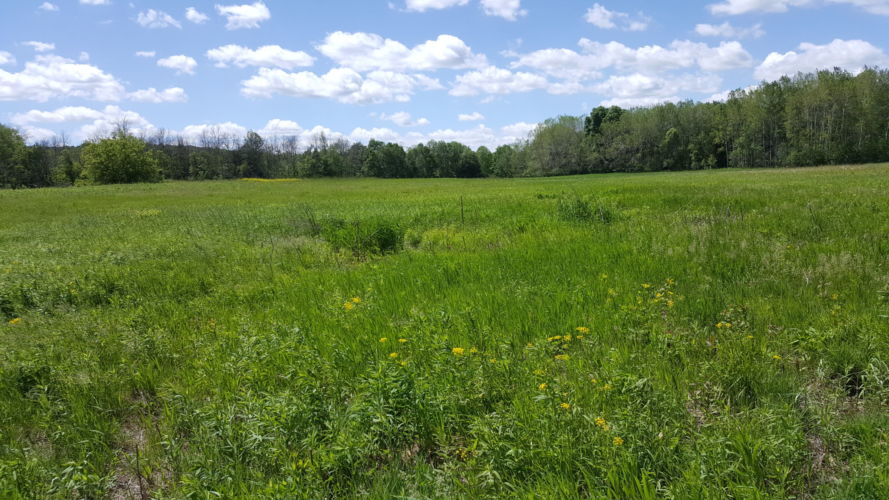 Thursday, February 20, 2019, 1:30 – 4:30 pm
Field Trip Leaders: Josh Jackl, WDNR Wildlife Biologist
Nichols Creek State Wildlife Area is a 612-acre property with an incredible diversity of habitat and management types in large part due to its groundwater connections. As the headwaters of the North Branch Milwaukee River, this property contains many cold-water seeps and spring runs which produce clean, cool water that sustains a wild population of brown and brook trout. Extensive coniferous swamp and areas of high-quality sedge meadow are found here, leading to its recognition as a Wisconsin Wetland Association Wetland Gem®, a State of Wisconsin Land Legacy Place, and an Outstanding Resource Water. This property is within the Kettle Moraine Conservation Opportunity Area which is recognized for having continental-wide ecological significance because of its complexes of uplands, wetlands, and rivers.
Join Josh Jackl, WDNR Wildlife Biologist, to view the property and discuss some of its unique features, including a local, well-known spring, a section of Class 1 trout stream, areas of sedge meadow, white cedar, tamarack forest, and restored prairie and other grasslands. Bring your binoculars for chances to view northern harriers, white-tailed deer, wild turkey and cottontail rabbits.
This is an outdoor field trip.
Managing Cattails and Partnerships in the Sheboygan Marsh
Thursday, February 20, 2020, 1:30 – 4:30 pm
Field Trip Leaders: Aaron Brault, Sheboygan County Planning & Conservation; Jon Gumtow, Stantec Consulting
The Broughton Sheboygan Marsh Park & Wildlife Area is the prominent feature in a 133-square mile watershed of the Sheboygan River. This area contains about 14,000 acres of land and surface water, of which 7,454 acres are owned by Sheboygan County, 752 acres are owned by the State of Wisconsin, and the remaining acreage is privately owned.
Leaders Aaron Brault (Sheboygan County Planning & Conservation Director) and Jon Gumtow (Stantec Consulting) will discuss the history of the marsh and how Sheboygan County, WDNR, and other partners coordinate cattail management and other challenges across the large area. Come prepared to climb the State's tallest wooden observation tour to look out upon this jewel of the Sheboygan County, which we'll be able to climb if snow cover is not too deep.
This is an outdoor field trip.
Snowshoes and Wetlands: Traverse the Kettle Moraine
Thursday, February 20, 2020, 1:30 – 4:30 pm
Field Trip Leaders: Jackie Scharfenburg, WDNR; Dale Katsma, retired WDNR
The Kettle Moraine State Forest – Northern Unit encompasses 30,000 acres and welcomes more than 600,000 visitors annually. The Northern Unit lies along 30 miles of the 120-mile "interlobate moraine" created as two large glacial lobes of the last Ice Age side-swiped each other. Because of its outstanding retreating glacial landforms, including the interlobate moraine, kames, eskers, outwash plains, and kettles, the Forest has been designated one of nine units of the Ice Age National Scientific Reserve. The moraine's glacial history created a wide array of biological communities from open bogs to southern hardwood forests to prairies.
Join Dale Katsma, retired WDNR wildlife biologist, for a brief indoor presentation as he shares the work the DNR Wildlife Team has done to restore, enhance, and maintain the wide variety of wetlands in the Kettle Moraine State Forest – Northern Unit. This work includes removing agricultural tiles to restore wetlands for waterfowl and protecting those around lakes and along rivers. After Dale's presentation, join forest naturalist Jackie Scharfenberg on a snowshoe hike to explore the winter woods on the Greenbush Trails. You will experience first-hand the glacial legacy as we climb the moraine and descend into kettle holes.  If there is no snow, we will hike the trails. Dress for spending time outdoors and bring your snow boots.
Snowshoes will be provided, though you are also welcome to bring your own.