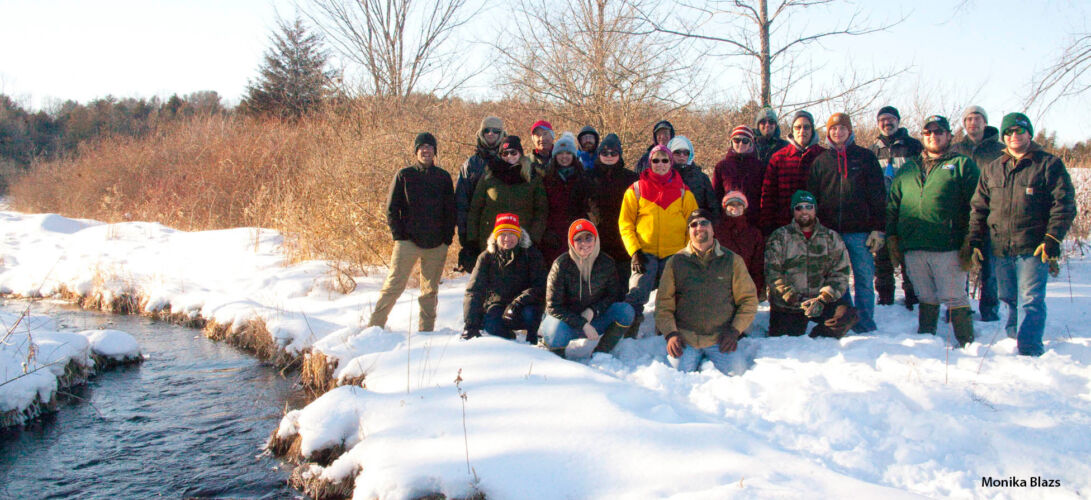 Field trips
These trips are your chance to view and enjoy the natural resources we work to protect, manage, and restore. Pre-registration for field trips is required and will include a nominal fee. Field trip sign-up will occur when you register for the conference. Space in each field trip is limited, and sign-up is first-come-first-served, so register early to ensure you get into your desired field trip. Note that field trip fees are non-refundable.
**Please note that the field trips will go in almost any weather (with the exception of hazardous conditions). We've encountered a wide range of conditions on our February field trips, so please consider this as you decide between indoor and outdoor options, and be prepared to dress warmly if you do register for an outdoor field trip.
Explore the natural areas of the proposed Bay of Green Bay National Estuarine Research Reserve (NERR)
Thursday, February 22, 2024, 1:30 – 4:30 pm
Field Trip Leaders: Emily Tyner, UW-Green Bay; Matt Dornbush, UW-Green Bay, Bobbie Webster, UW-Green Bay, and Amy Carrozzino-Lyon, UW-Green Bay
Description: A new National Estuarine Research Reserve (NERR) is being designated on the bay of Green Bay. The NERR system is a national network of 30 sites across the coastal US designed to protect and study estuaries and their coastal wetlands. Green Bay is the world's largest freshwater estuary and the concept of locating a NERR on the bay has been in discussion for some years. Throughout the trip, speakers will describe the goals and vision for the bay of Green Bay NERR. This trip will visit two of the natural areas to be included in the NERR.
The first stop is Wequiock Creek Natural Area, a 76-acre area acquired in 2019 through a partnership between the Northeast Wisconsin Land Trust, the University of Wisconsin-Green Bay, and the Town of Scott. The natural area includes flat upland, wetlands, and a forested riparian area sloping into Wequiock Creek. Bobbie Webster from the UW-Green Bay Cofrin Center for Biodiversity will join us to talk about current and planned projects.
The second stop is Ken Euers Nature Area, owned and managed by the City of Green Bay with partners from Ducks Unlimited, UW-Green Bay, WDNR, and USFWS. Extensive restoration has increased accessibility and improved habitat for fish and wildlife. Ken Euers is a popular birdwatching spot that received media attention and hundreds of visitors in July 2023 when a roseate spoonbill spent time in the area. We will be joined by Amy Carrozzino-Lyon, restoration scientist at UW-Green Bay, to learn about the extensive restoration activities and how this links to the NERR designation.
This trip will include unpaved paths and some uneven ground.  Anticipate less than a half mile of walking at each stop.
This is an outdoor field trip.
Exploring winter wetland and grassland habitats!
Thursday, February 22, 2024, 1:30 – 4:30 pm
Field Trip Leaders: Tony Kuchma, Oneida Nation; Erin Giese, UW-Green Bay; James Havel, Robert E. Lee, Inc; and Lisa Lumley, WDOT
Description: We will visit the WisDOT Oneida wetland mitigation bank to learn about the regulatory functions and habitat management strategies of this crown jewel of mitigation banks. We will then travel across the road to a 420-acre wetland and prairie refuge that is providing critical habitat for grassland and marsh bird species. We will also learn about and see other efforts to restore the headwaters of Trout Creek. Participants will gain an understanding of the partnerships that make this work possible and meet the experts who will guide them on this journey!
We will be winter hiking and birding, so bring binoculars and appropriate clothing and footwear. Trails will be groomed and snowshoes are encouraged.
This is an outdoor field trip.
The Fewless Herbarium
Thursday, February 22, 2024, 1:30 – 4:30 pm
Field Trip Leaders: Keir Wefferling, Curator of Fewless Herbarium, UW-Green Bay
Description: This field trip will offer a glimpse into the Fewless Herbarium collection. The Herbarium houses a collection of more than 35,000 dried vascular plant vouchers, of which more than 90% are from Wisconsin. Herbarium collections provide reliable records for the distribution of vascular plants and are the basis for most taxonomic publications regarding plants. This field trip will focus on the bryophytes—a taxonomic group explicitly requested by 2023 Wetland Science Conference participants.
This is an indoor field trip.