For Students
As part of our ongoing efforts to encourage and support the next generation of wetland scientists and practitioners, we offer several opportunities for students to develop skills that will help them in their wetland careers. Participating as a student (either by presenting or attending) is also a wonderful opportunity to network with wetland science professionals.
In our special virtual event environment for 2021, we expect to be able to offer even more events specially for students and young professionals. If you have ideas of great ways we can create networking activities, email conference@wisconsinwetlands.org.
See below for more information on the opportunities we offer for students at the Wetland Science Conference.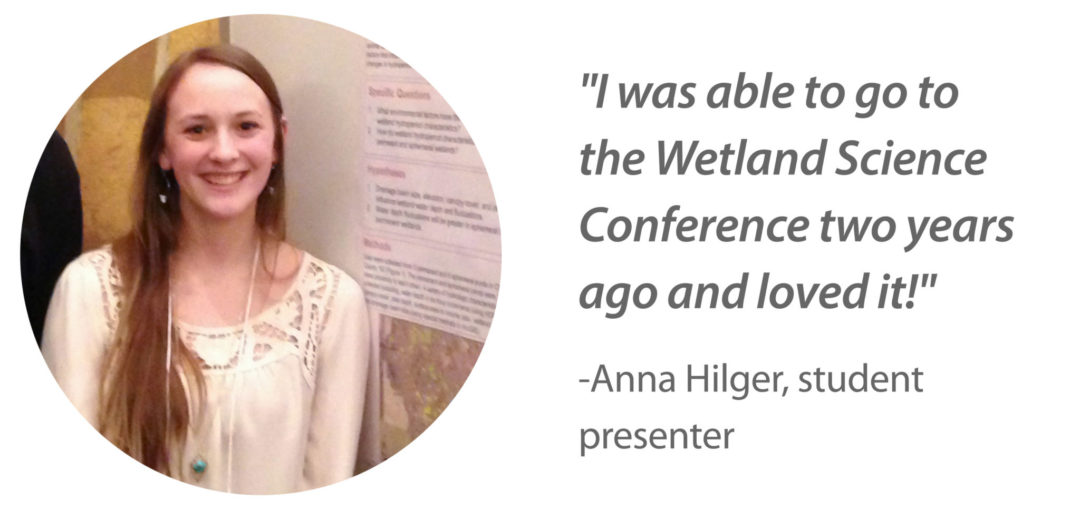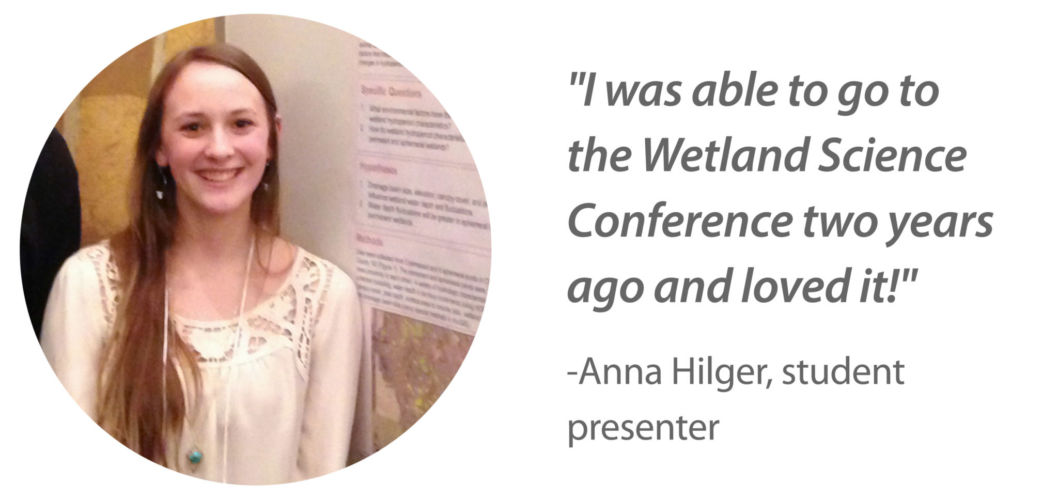 Student Scholarships
As we have in recent decades, we expect to offer a limited number of student scholarships that will cover the full cost of registration in exchange for a nominal amount of volunteering during the conference. Priority for these scholarships will be given to students who are presenting at the conference (oral or poster presentation), however, you need not be presenting in order to apply. Applications are due January 14, 2022. Apply for a student scholarship here.
Registration Fee Discount for Students
If a scholarship isn't for you, we offer a 67% discount off registration fees for students. Details here.
Student Presentation Competition
To encourage high-quality student presentations, we host a student presentation competition, awarding cash prizes to the best oral presentation and best poster presentation by a student. Current students and recent graduates who are presenting their student research at the conference are eligible to participate. Those interested in participating should indicate this when submitting their abstracts.
Submit your abstract for presentation at the 2021 Wetland Science Conference to be entered into the student presentation competition.
Student Competition Evaluation Rating Criteria
Scientific Content
Title and Abstract
Title and abstract informative, concise, well-written, and correlates with presentation
Content
Introduction & background with pertinent literature cited
Objectives clearly stated & concise
Materials & methods (study design) clear & concise
Results & discussions clear, concise, logical & accurate
Significance of results to field of study
Poster Display or Oral Presentation
Organization
Logical order, minimum redundancy, effective use of space, good transition between sections, pieces tie together
Text, Figures, and Tables
Legible with large fonts, color contrast, no conflicting backgrounds
Text without grammatical errors; not excessively wordy
Effective use of photos, figures and/or tables, coordinated with text