Sponsor or exhibit at the conference 
This conference is WWA's largest annual event and is an excellent opportunity for visibility.
Sponsors. We seek institutional, corporate, organizational, and individual sponsorship for this event. Demonstrate your organization's conservation leadership and commitment to the wetlands of Wisconsin by sponsoring our Wetland Science Conference at the level that is right for you.
Exhibitors. We seek exhibitors who are interested in sharing their products, services, or work with the community of wetland and water professionals who attend the conference.
Interested in becoming a sponsor or exhibitor? Check back in the fall when we will post information for next year's conference.
Please contact Katie Beilfuss at programs@wisconsinwetlands.org or 608-250-9971 x3 with any questions, and thank you for any support you can offer.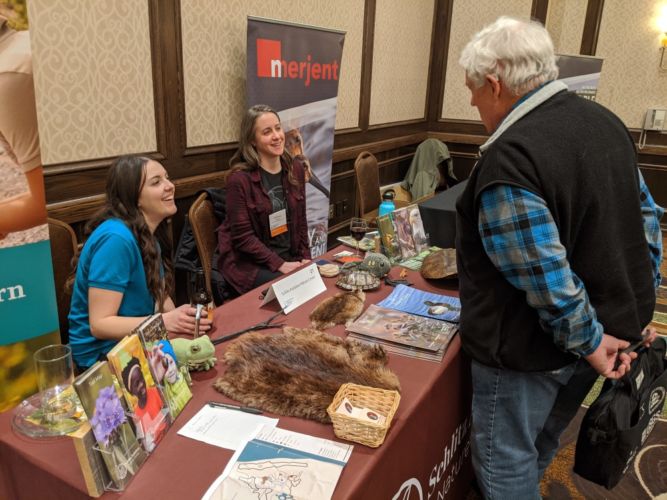 Thank you to these Sponsors of the 2023 Wetland Science Conference:
Thank you to these Exhibitors:
Baxter & Woodman
BioApp, LLC
Civil & Environmental Consultants, Inc.
Custom Bridges & Boardwalks
GAI Consultants, Inc.
GEI Consultants, Inc.
Golden Sands RC&D Council Inc
Heartland Ecological Group
Helena Agri-Enterprises
Integrated Restorations, LLC
Interfluve
ISG
Madison Audubon
Merjent
Midwest Groundcovers
National Association of Wetland Managers
Natural Resources Foundation of Wisconsin
NES Ecological Services
North Central Conservancy Trust
Nutrien Solutions
Onset – HOBO Data Logger
Pheasants Forever
RES
Society of Wetland Scientists – North Central Chapter
Stantec
Sterling Site Access Solutions, LLC
University of Wisconsin Press
USDA-Natural Resources Conservation Service
UW-Stevens Point Extension Lakes
Wickcraft Boardwalks
Wisconsin Department of Natural Resources
Wisconsin Flowgate & Drainage
Wisconsin Land+Water
Wisconsin Initiative on Climate Change Impacts
Wisconsin Waterfowl Association
Wisconsin Wildlife Federation, Inc.