Sponsor our conference 
This conference is WWA's largest annual event and is an excellent opportunity for sponsor visibility. We are seeking institutional, corporate, organizational, and individual sponsorship for this event. Demonstrate your organization's conservation leadership and commitment to the wetlands of Wisconsin by sponsoring our Wetland Science Conference at the level that is right for you.
Download the 2019 Sponsor Packet for a complete list of sponsor levels and benefits. Note that special exclusive marketing opportunities are available on a first come, first served basis starting at the Bronze Sponsor level. Every sponsorship level comes with at least one complimentary registration for the conference.
To become a sponsor, complete the sponsor form (found on the last page of the sponsor packet) and return it to Wisconsin Wetlands Association along with your payment by January 18, 2019. Please contact Katie Beilfuss at 608-250-9971 or programs@wisconsinwetlands.org with any questions, and thank you for any support you can offer.
Note to exhibiting sponsors: Set-up begins at 6:00 pm on Tuesday, Feb. 19, 2019. Exhibit tables come with table linens and skirts. Tear down begins after 1:30 pm on Thursday, Feb. 21, 2019. For more information, contact conference@wisconsinwetlands.org.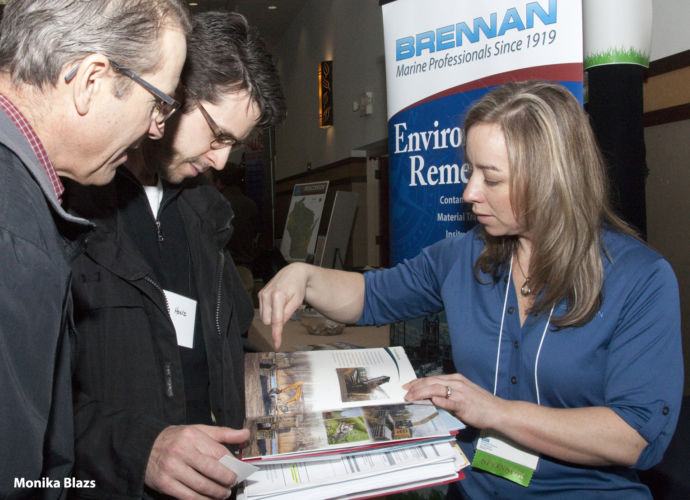 Special One-time Golden Anniversary Sponsorship Opportunity
In 2019, Wisconsin Wetlands Association turns 50! Celebration of this important Golden Anniversary milestone will kick off at the 2019 Wetland Science Conference and continue throughout the year.  We encourage you to become a Golden Anniversary Sponsor (in addition to being a Conference Sponsor)! Recognition of your support will continue throughout 2019 at events, field trips, and other celebrations.
Details about this special sponsorship opportunity will be posted here soon.
Wisconsin Flowgate & Culvert
Helena Agri Enterprises
Ducks Unlimited
USDA Natural Resources Conservation Service
Miller Engineers & Scientists
Nutrien Solutions
Montgomery Associates: Restoration Solutions, LLC
Alliant Energy Foundation
GRAEF
Integrated Restorations, LLC
raSmith
Seiler Instrument
Tallgrass Land Conservation
UW-Extension Lakes
Pheasants Forever
University of Wisconsin Press
Madison Audubon Society
Society for Wetland Scientists North Central Chapter
Friends of Cherokee Marsh
Schlitz Audubon Nature Center
Natural Resources Foundation of Wisconsin
Wisconsin Society for Ornithology
Climate Change Action & Wetlands
Wisconsin Land+Water
Gathering Waters: Wisconsin's Alliance for Land Trusts
Saint Mary's University of MN, GeoSpatial Services