Kenneth Bradbury, Director and State Geologist, Wisconsin Geological and Natural History Survey, University of Wisconsin-Extension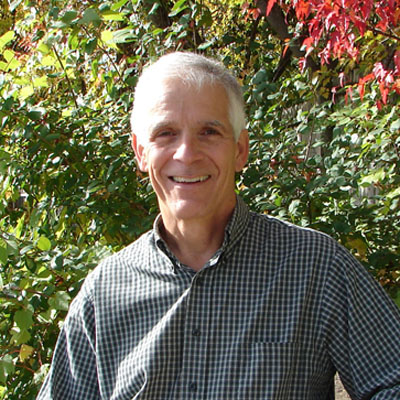 Groundwater, wetlands, and geology: The invisible links
Wednesday morning, March 1st
Although most people understand that Wisconsin's wetlands are usually related to groundwater systems, these connections are often difficult to see. Why do wetlands occur where they do? Where does their water come from? How are they connected to the groundwater systems around them? Are they at risk from nearby groundwater extraction or other land-use changes? Hydrogeology helps answer these questions. Wisconsin's geology, landscape, and climate are fundamental controls on the State's groundwater flow systems, which in turn are intimately linked to wetland hydrology. Depending on geology and landscape position, wetlands can be recharge or discharge areas for groundwater and more or less vulnerable to local or regional groundwater extraction. Using examples from three decades of research in Wisconsin, Ken Bradbury will illustrate the invisible links between wetlands, groundwater, and geology.
About Kenneth Bradbury
Kenneth Bradbury is Wisconsin's State Geologist and Director of the Wisconsin Geological and Natural History Survey, University of Wisconsin-Extension. Ken became the Survey's Director in September, 2015. Prior to this, Ken was a Research Hydrogeologist with the Survey since 1982. His research interests include virus transport in groundwater, groundwater flow in fractured media, aquitard hydrogeology, groundwater recharge processes, wellhead protection, regional groundwater simulation, and the hydrogeology of glacial deposits. Ken is the author of numerous scientific papers and reports, a Fellow in the Geological Society of America, a former chair of the National Research Council Committee on Water Resources Research for the U.S. Geological Survey, and a former member of the National Research Council's Water Science and Technology Board. He earned his PhD in Hydrogeology from UW-Madison.
Thomas I. Meier, Wetland and Wildlife Biologist, Land Management Solutions, LLC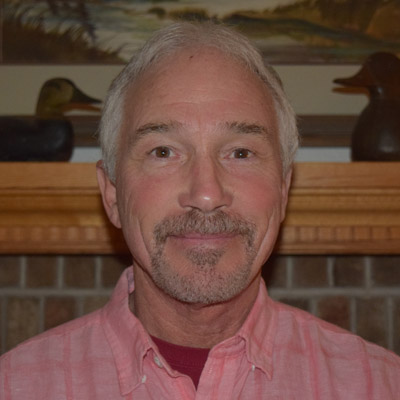 Connecting history, wildlife, and wetlands: A story of the Mead Wildlife Area
Thursday morning, March 2nd
The wetlands of the George W. Mead Wildlife Area have a long history that tell a story of destruction, restoration, conflict, frustration, disappointment, and elation. They embody many of the experiences and relationships we have all had through our endless efforts to protect wetlands. Meier will share the early history of destruction of the Mead Wildlife Area wetlands, the restoration scenarios that were employed by past managers, and restoration and management efforts that he and his staff employed during his 30-year stint as project supervisor of this magnificent area.
As both a wetland and wildlife biologist, Meier had the unique opportunity to observe, assess, and manage these great systems from the often conflicting viewpoints of these two fields. Wetland preservation and wildlife management are not always considered to be compatible uses and approaches to wetland management and protection. Meier will explain these sometimes conflicting approaches and the common thread between intact, degraded, restored, and created wetlands, and he will add his perspective to the issues we all face as wetlands continue to be altered and lost throughout Wisconsin.
About Thomas Meier
Growing up in Madison, Meier spent countless hours as a youngster on the city's lakes and adjacent wetlands. Immersed in this atmosphere, he gained a love and expanding appreciation for these systems and even then sensed an urgency in regard to their loss and deterioration. Although his mother wanted her son to be a world renown brain surgeon, he broke from that path after 4 years of pre-med, to follow his dream of becoming a wetland and wildlife biologist.
His career began in 1976 with his first assignment as wildlife biologist, with the Wisconsin Department of Natural Resources, in Sauk and parts of Iowa and Richland Counties. In 1981 he was fortunate enough to become the Property Supervisor for the 40,000 acre Mead-McMillan Wildlife Area in Central Wisconsin. It proved to be a vocation rather than just a job and he remained there for 30 years, managing its diverse landscape of wetland and upland areas for the people of Wisconsin.
After retirement, Meier formed a natural resources company, "Land Management Solutions" with his son. They are involved in everything from wetland management to Timber sale set-up and administration. He appreciates being able to continue his involvement with the natural world, but as much as he enjoy the work, he says he'll have to find a way for the relaxation and freedoms that are supposed to come with retirement.
Rob Nurre, Landscape Historian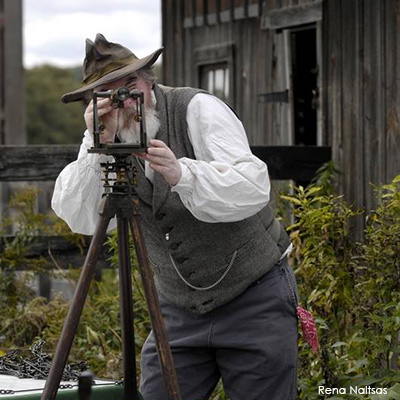 The Surly Surveyor: Connecting today's landscape with Wisconsin's past
Wednesday evening, March 1st. Part of a ticketed event. Details.
Wearing period costume and carrying an old-time surveyor's compass, Rob Nurre will step out from the pages of historic field notebooks as the "Surly Surveyor" to share the story of Wisconsin's first public land survey. Nurre will explain how the first surveys were completed in the 1800s and what their findings can tell us as we seek to protect and restore wetlands in our modern landscape.
About Rob Nurre
Rob Nurre is a landscape historian whose work focuses on the interactions of natural and cultural history. Nurre uses character portrayals in his educational presentations to illustrate these interactions. Along with portraying an original General Land Office surveyor, Nurre also portrays Increase A. Lapham, Wilson "Snowflake" Bentley, and bird's-eye-view artists. He lives in Baraboo.