More than 400 people from 18 different US states (and Ontario, Canada) attended the 2021 Wetland Science conference, which was held virtually February 16-19, 2021. The virtual event platform made it easy for folks to connect from all over to tune in for live sessions, pre-recorded presentations, workshops, roundtable conversations, wetland trivia, and more during the four-day event.
A special symposium on watershed-based hydrologic restoration brought expert researchers and practitioners from around the country to share information and real-world examples of the importance and benefits of taking this systemic approach to healing our waters.
Concurrent sessions and virtual posters featured presentations on wetland research, projects, and outreach across Wisconsin and the upper Midwest.
While attendees waxed nostalgic about aspects of the traditional in-person conference (hallway conversations, in-person networking, having prepared food served to you during breaks and lunches, and that end-of-break bell!), some great silver linings of virtual conferencing also emerged. Attendees loved the ability to share thoughts and ideas during the sessions via the session chat as well as being able to submit questions anonymously for the live presenter Q&A. That the presentation recordings are available following the conclusion of the live sessions is another great benefit, allowing attendees to re-watch talks dense with a lot of information or catch talks they missed live.
New to the conference program this year were topical roundtable conversations. Ranging in subjects from starting an ecological restoration business to wetland poetry, natural flood management to diversity, equity, and inclusion in conservation, these sessions provided an opportunity for attendees to gather in a live video environment to talk and exchange ideas about subjects of interest to them. Look for this kind of session to continue at future in-person conferences!
People who registered for an On-Demand Only pass to the conference will gain access to the virtual event platform on March 1. Everyone who registered for the conference—whether for an All-Access or On-Demand Only Pass—can view all of the recorded presentations on the virtual event platform through August 2021. Go to eventmobi.com/wsc to log in.
If you haven't registered for the conference yet, it's not too late! You can view all of the conference recordings from now through the end of August 2021 by buying an "On-Demand Pass" at conference.wisconsinwetlands.org/registration. This On-Demand pass is $50 for WWA members, $75 for non-members, and just $25 for students!.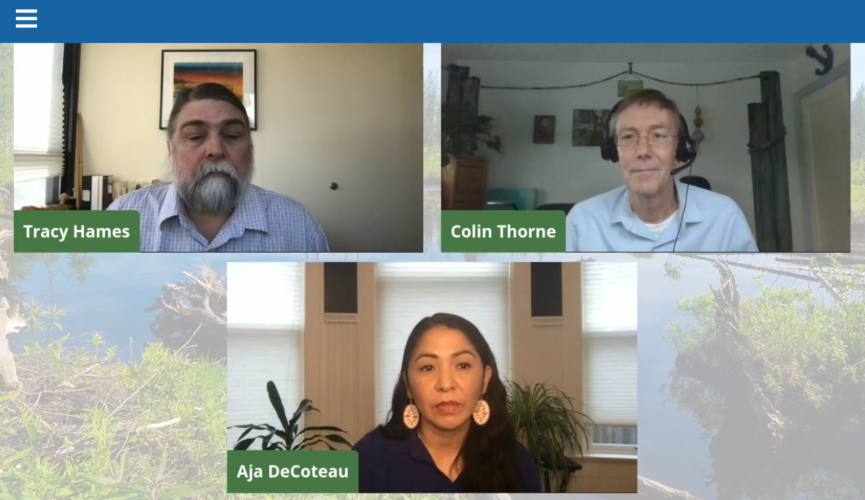 WWA's Tracy Hames moderated the opening session of the conference with presenters Aja DeCoteau and Colin Thorne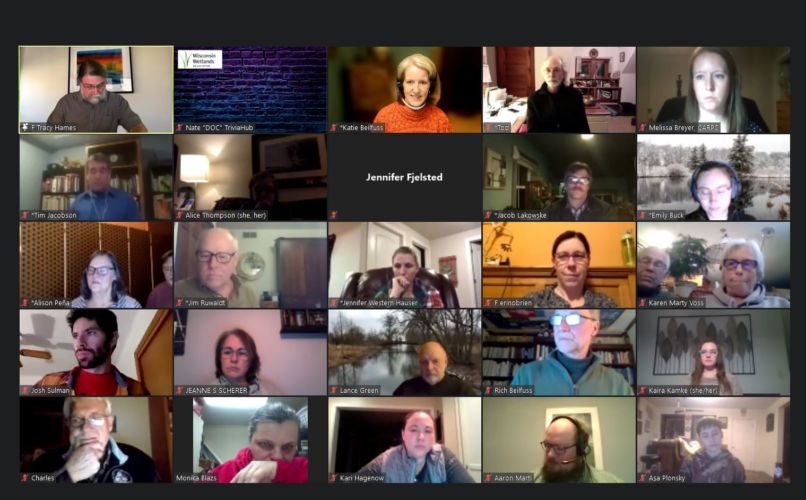 WWA members and supporters tested their wetland knowledge with high-stakes trivia.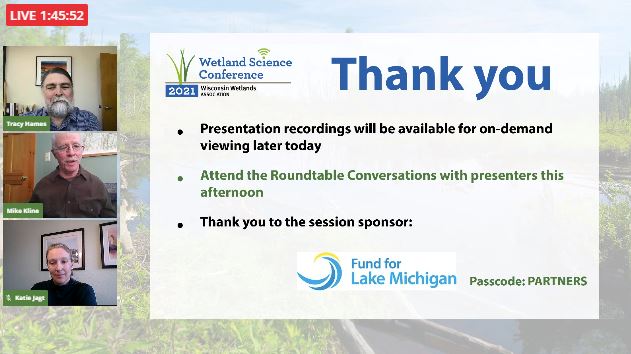 Tracy Hames moderated a session with Symposium presenters Mike Kline and Katie Jagt.
Comments from 2021 attendees:
"So many inspirational speakers and excellent presentations! The virtual format intimidated me at first. Then I started tentatively exploring the platform and found it was very user-friendly."
"Thank you to all that helped put this great conference together! I am walking away with some great ideas!"
"The Wetland Science Conference was my first conference experience as a graduate student and even though it was virtual, I still thoroughly enjoyed it and I gained so much valuable knowledge!"
"Really inspiring and moving keynote speakers."
"WWA staff has outdone themselves! This was very well put together and run."
"I haven't gotten out of my jammies all week!"